Mandela Week
---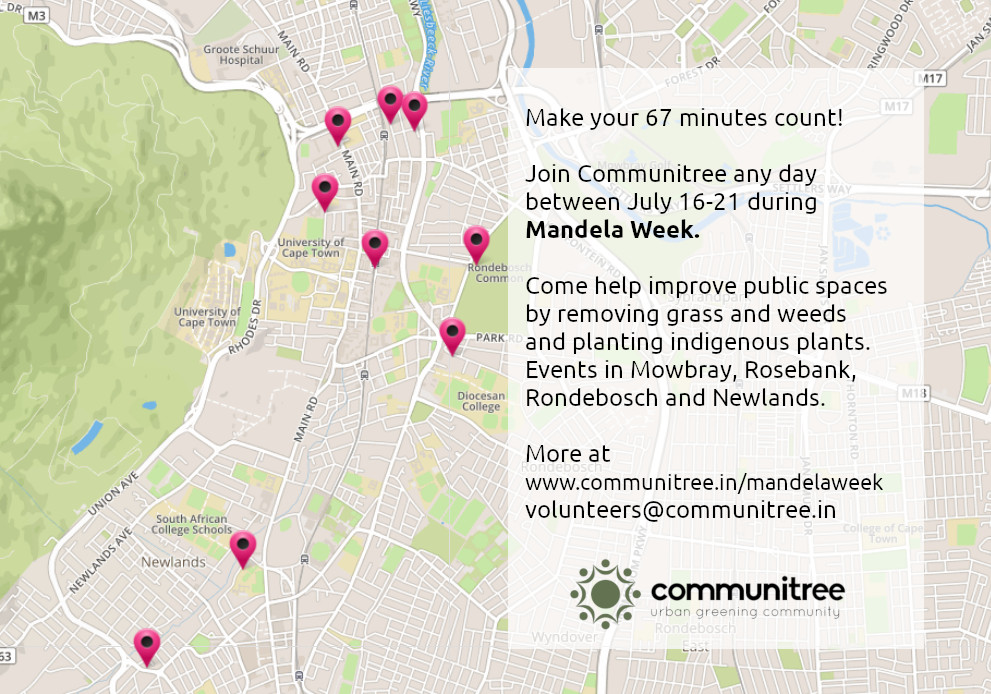 Join us during Mandela Week! We warmly invite people, organisations, groups, friends, families, and others to join us in our public greening activities from Monday, July 16 until Saturday, July 21. We have a large number of activities planned during and around Mandela Day, July 18, to ensure that everybody can contribute and help green public spaces in Cape Town during their 67 minutes of contributing to service South Africa.
We have scheduled 2 hour sessions every day of the week, as well as Saturday. Everybody is welcome to join us at any time during the 2 hour time slot. Every help is welcome, even if you join for 67 minutes or less. You can sign up with a group friends, as part of an organisation, community group, or as an individual. We need all the help we can get to improve these public spaces.
About Gardening events
During gardening events, we go out to a public greening site and work on general maintenance, cleaning, and upkeep of the plot. These events are key in our activities and they have a huge public impact. By keeping (often formerly abandoned) plots in good shape, the public space often transforms from an eyesore and underused space to an inviting space.

During the gardening events we often work on chores like cutting back or removing grass, cleaning up the space (littering is often an issue), removing weeds, taking care of the plants, and improving the soil. You do not need any gardening experience to join these events. The only thing that really matters is your enthusiasm to participate in public gardening! But if you do have some equipment, always feel free to bring this along. Click here to see our full gardening calendar, and click here to see all the public sites we are working on.
Events
Photos
Please find below an overview of the photos of all events that took place during Mandela Week.